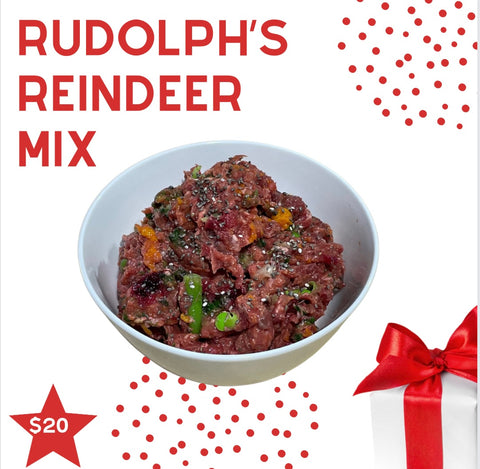 Rudolph's Reindeer Mix (Christmas Special)
Note: This item is only available for pick up and local Perth delivery. 
In the spirit of Christmas it is important to include our furry friends in the celebrations.
Our Rudolph's Reindeer balanced mix comes in a 500 gram or 1 kilo pack. This mix has been formulated that it is appropriate for both adult dogs and puppies (our cat likes it too 🤣) 
Ingredients:Free range venison chunks, Wild caught WA Kangaroo bone grind, free range goat liver, free range goat spleen, free range goat kidney, roasted pumpkin, roasted beetroot, pear, Strawberries, spinach, peas, beans mango and chai seeds. 
Your Rudolph's reindeer mix will be sent to you frozen so it will stay nice and fresh until the big day. (please keep frozen if ordering early) 
---
We Also Recommend