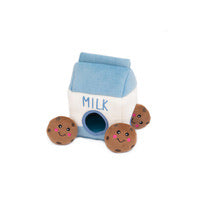 Zippy Burrow - Milk and Cookies
Description:
Interactive, soft plush hide-and-seek toy
Suited for small to medium-sized dogs
Squeaky toys are replaceable (Refills available)
Squeaky toys to entice dogs to play and find cookies in milk
Comes in other Zippy Burrow editions:
How to Use:
Stuff the squeaky plush toys into the cave. Squeeze the toy to make squeaking noises. Give the toy to your dog, and watch him or her dig through the toy and take out the cookies. To make the hide-and-seek game more challenging, teach your dog to put the cookies back into the milk and pull them out again. 
---
We Also Recommend