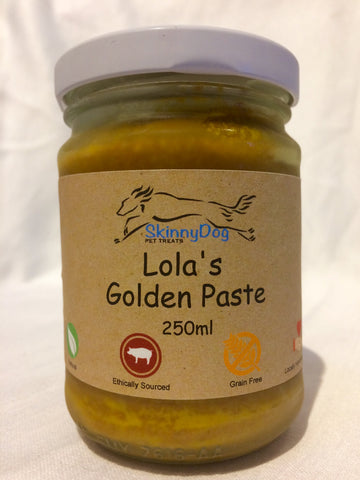 Lola's Golden Paste 250ml
Please note this item is only available for pick up and delivery. 
What is Golden Paste?
Turmeric root is a world-renowned spice that is one of the most thoroughly researched plants in existence today. Used most commonly in cooking, turmeric is also used medicinally to treat a wide variety of conditions and alleviate certain symptoms. Turmeric is recognized by its rich orange color and earthy scent, being a member of the ginger family.  Used heavily in Eastern food, Asian food and Chinese medicine, the highly potent benefits of turmeric have been studied for many decades. These benefits are not just limited to humans, as turmeric has the ability to heal our pets in many different ways. For the best absorption of turmeric should be combined and cooked with, organic virgin coconut oil and black pepper to form a paste.  This is known as Golden Paste.
What are the benefits of Golden Paste?
The main component of turmeric is curcumin, a substance that has powerful anti-inflammatory and antioxidant properties. Curcumin is a bio-active substance that fights inflammation at the molecular level. This makes turmeric ideal for senior pets, dogs with arthritis and poor joint health, and any condition with inflammation as a symptom. The anti-inflammatory properties in turmeric are so powerful that it matches the effectiveness of some anti-inflammatory drugs (except without the bad side effects). Turmeric is also a strong antioxidant, helping to neutralize free radicals in the body while stimulating the body's own antioxidant enzymes.
What's in Golden Paste?
Our Golden Paste is made from turmeric, organize and unrefined coconut oil and freshly ground black pepper.
Feeding Golden Paste You can add the Golden Paste directly to your dog's meals by mixing it with some water or kefir. Most dogs don't mind the taste at all!
Start with about ¼ to ½ tsp, depending on the size of your dog. You can increase the amount from there, up to about a tbsp per day for larger dogs.
TIP: Turmeric leaves the body quickly, so it's best to feed smaller amounts a few times a day.
Please be aware turmeric will stain clothing and carpets
We believe in recycling and reusing, if you return your SkinnyDog jar you will receive a $2 discount off your next purchase.
---
We Also Recommend